This season has brought the southeast a barrage of crazy weather.. rain, snow, blistering winds and now the pressure is rising again. A new digital storm is on the horizon and headed this way.  Since the doors have opened here at New Earth Music Hall we are proud to say that most of the artists who have graced our stage have never been to Athens to perform before.  We know this is just the beginning of a great new awakening in our community to a much bigger and broader range of music and artists that span a wide and diverse scale of genres and niches.  What better way to prove my point than this post about some of the hottest names in the biz.  Enjoy the videos, downloads and links and make sure you DO NOT miss the debut performance of these three spectacular acts in our community of true music revolutionaries.

*hard tickets also available at school kids records
DAEDELUS: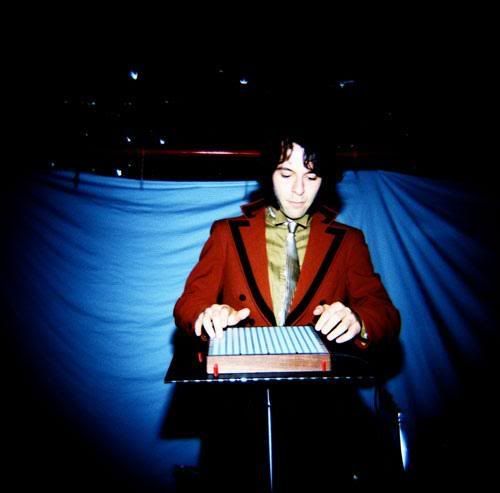 A quick look at his discogs page and you will find a list that reaches back into the turn of the century, which also fits his personal "Victorian" style, but that is the only thing "retro" about this futuristic performer.  His homemade "box" represents the era of thinking of the modern electronic musician.  A self titled "Controllerist" Daedelus (born Alfred Weisberg-Roberts) promotes the use of controllers (devices used to externally control computer functions) as an instrument on par with turntables, a keyboard, or even an guitar.  Just a simple search will bring up several interviews that go further in his philosophies but here are a couple that are worth the read to better understand the man behind the lambchops. Daedelus interviews from: JunkMedia and URB .
Video from the forthcoming album to be released on BrainFeeder March 23rd entitled:  "Righteous Fists of Harmony"
Here is a older video from the 2007 E.P. "Fair Weather For Friends"
Listen to: Daedelus " The Order of The Golden Dawn"
Listen to: Daedelus "Its Madness" (Nosaj Thing remix)

DIRECT DOWNLOAD LINK HERE (right click, save as)
DAEDELUS LINKS:
MAINSITE // MYSPACE // FACEBOOK // TWITTER
Nosaj Thing:
Anyone was lucky enough to attend "1nce" at the Variety Playhouse last summer in Atlanta already knows about the amazing live performance from L.A.'s Nosaj Thing (Jason Chung).  Here is a blurb from his myspace page:
"His debut album Drift was released by Alpha Pup in June 2009 to unanimous global acclaim. Pitchfork awarded an excellent 7.9 rating, calling the album "gorgeously haunted… sonic Easter Eggs for a thousand listens." The album peaked at 5 on the iTunes Electronic chart, and went all the way to 1 on Bleep and Boomkat. The success of Drift led to Nosaj Thing being featured in magazines such as Spin, Fader, XLR8R, The New Yorker, Nylon and URB. He has received regular airplay on BBC Radio 1 and Los Angeles' KCRW, while his engaging live set has made him a staple of the worldwide underground touring circuit."
Here are some videos from his site:
Nosaj Thing Visual Show Compilation Test Shoot from Adam Guzman on Vimeo.

Nosaj Thing from 13thWitness™ Dj Set From Urb Magazine Party… Indio California..
Listen to: Nosaj Thing's L.A. Mix from the XLR8R Podcast:

DIRECT DOWNLOAD LINK (right click, save as)
and here is a recent gem: The XX- Islands (Nosaj Thing remix)
DIRECT DOWNLOAD LINK (right click, save as)
NOSAJ THING LINKS:
MAINSITE // MYSPACE // FACEBOOK // TWITTER // LAST FM
JOGGER:
Blurb from Jogger's Last FM:
Another product of the fertile cross-breeding programme in operation around LA right now, Jogger are a live electronics act combining psyche-folk leanings a la Animal Collective with the sort of beat science trimmings more associated with the many egos of Daedelus. 'This Great Pressure' is their debut full length release, displaying a well matured band ready to embrace the world with their glorious sound.
JOGGER LINKS:
MICROSITE // MYSPACE // FACEBOOK // LAST FM // TWITTER
XTRA LINKS:
NINJA TUNE // BRAINFEEDER // ALPHAPUP // MUSH RECORDS
CLICK HERE TO BUY E TICKETS –  *hard tickets also available at school kids records
Hidden Prize* – the first person to tweet : "@NEWEARTHMUSIC RULES" – from our tweetboard located on the left of the homepage wins two tickets to the Magical Properties Tour featuring Daedelus, Nosaj Thing and Jogger.